​

With the "Brawl on the Bund" hosted by White Collar Boxing approaching, I had the pleasure to interview JayJay, a female candidate whose spunky personality and humble beginnings make her journey that much more incredible.随着白领拳击主办的"外滩争霸"赛事临近,我们有幸采访到JayJay,一位勇气可嘉又不失谦逊品格的女拳手,她这一路走来,充满着传奇色彩。On first glance, JayJay seems out of place in her sophisticated office for a wine and spirit company. Dressed in a pink tracksuit and colorful tattoos, one would never expect the 35 year-old Shanghainese cancer survivor also trains to fight in Brawl on the Bund. But although her physique and personality are impressive, she was not always like this.

初见JayJay,感觉她似乎跟酒类进口公司工作的环境格格不入。粉色的运动服,彩色的纹身,人们也不会认为她是一个将要参加外滩争霸赛的35岁上海人,而就在几年前,她刚从癌症的魔爪中挣脱。尽管她现在有着出众的外表和令人印象深刻的人格魅力,但JayJay 也并不是一直如此。
Jayay used to weigh 220 lbs, the first time she gained weight was after her daughter was born, the second time was during cancer treatment.After her recovery from cancer, JayJay's health journey began, and she completely restructured her lifestyle. Along with healthier eating, JayJay's workout schedule needed some work. She expressed her difficulty finding comfort in the gym, and how certain classes challenged her.JayJay曾经两次胖到200斤,第一次是在她女儿出生之后,没有合理的产后恢复,第二次是在她得癌症治疗期间,没有合理的规划饮食。而她的健身之旅开始于癌症康复之后,从那时起,她的生活经历着翻天覆地的变化。同她健康的饮食一样,JayJay训练计划上也下了很多功夫。她向我们讲述她是如何挣扎着走进健身房,又如何艰难的去适应健身房的节奏,每次都要面对巨大的挑战。
"When I first went into the spinning bike class, I felt like I was a panda", she said, leaning back in her chair and laughing. "I tried to figure out how the bike worked, and everyone looked at me like I was a stupid.""当我第一次去动感单车课的时候,我觉得我就像一个笨重的熊猫",说到这,她笑得前仰后合。"我一直在试图弄明白单车该怎么骑,所有都像看智障一样的看着我。"
How she fell in love with fitness与健身的不解之缘
But despite her initial struggles, she eventually found her rhythm. With the help of fitness friends, JayJay began going to the gym 4-5 times a week and spoke with them about what to eat and how to workout. This is where she fell in love with boxing. "It's fun, not just hard physically. You also have to use your brain by learning how to use your skills in a proper way." After months of hard work, JayJay has gone through a transformation having lost 6kg of fat and gained 3 kg of muscle since the beginning of the year.尽管最初很不适应,但是JayJay很快找到了节奏。在喜欢健身的朋友的帮助下,她开始每周规律的去4-5次健身房,还谦虚的请教专业人士关于饮食和训练的方式。没过多久,JayJay接触到了拳击训练,从此一发不可收拾。"拳击非常非常有趣,它不仅仅是暴力运动。要想熟练的掌握拳击技巧,你必须动脑不断地思考"。经过几个月的训练,JayJay也有了明显的变化,在减掉6公斤脂肪的同时,增加了3公斤肌肉。
When asked how she makes such progress, JayJay attributed her success to the steps daily steps taken with her food and workout cycle. She explains that because of her athletic lifestyle, her goals for body shape, health program, and workout regime are a bit extreme compared to the average person. But JayJay emphasizes that all exercise and the routine that works best for you is critical.当问到是什么让她有如此长进步的时候,她将这些归功于日复一日的合理饮食和规律的训练计划。不过她也提到,因为她追求的是运动员的生活方式,她对于体型的追求,健康指标以及严格的训练计划,这些相比于正常人来说略有些极端,所以,无论采用怎样的训练计划和饮食结构,适合自己的才是最好的。
JayJay says to gear your workout regime towards the type of body or goal you are trying to achieve. A more muscular body requires more heavy weight lifting while a leaner body type needs a different type of conditioning. In regards to food, maintaining a diet in high protein food, she says, will keep your energy up and help to build muscle and make bones stronger. She finds the dieting myths found online to be misleading and says that people should take control of what foods they are putting in their bodies. Her one pet peeve, as she scrunched her face in playful frustration, is fast food and hot pot (a shocking realization for food lovers everywhere). "It's good to have a cheat day once in a while, but what will you be saying to your body 30 years from now?"JayJay 认为要根据自己的体型以及训练目标来适时的调整训练计划。肌肉发达的人需要更多的负重训练,而相对瘦小的人则需要量力而行。至于饮食,采用高蛋白饮食不仅能够让你能量满满,帮助肌肉增长,还可以强健骨骼。她也指出网上有很多关于饮食的谣言,觉得我们应该对我们吃的东西负责,不胡吃海塞。她最不能忍受的是火锅这类的东西(可能在很多吃货看来这不可思议)。"偶尔吃欺骗餐是很好的,但是如果经常这么吃,那么谁知道30年以后你的身体会变成什么样子呢"
In addition to maintaining a healthy diet, JayJay also mentioned the benefit of adding supplements to your daily regimen. "I train very hard and have trouble sleeping, so I need some vitamins and supplements to make sure that my body is working well. It's not a magical medicine, but when you really want to achieve a goal, why not have some help?"除了保证健康的饮食之外,JayJay还提到运动补剂在日常训练的重要性。"我每天的训练强度很大,有时会很难入睡,所以我就会需要多种维生素,还需要额外的蛋白质来补充。补剂并不是什么具有魔力的药,但是如果你需要达到特定目标甚至可以更进一步的时候,为什么不用呢?"
Among many of JayJay's amazing accomplishments, her future participation in the WCBI fight  starting in December is sure to be one for the books. When asked about her reason to join the fight, JayJay described it as the forging of courage to overcome her fears.在JayJay的众多目标中,能够参加白领拳击在12月举办的"外滩争霸"赛是其中之一。当问到她为什么要参加比赛的时候,她的主要目的是想锻炼自己克服恐惧的能力。"In the beginning, I think some people are afraid of something because they don't know about it," she told us. Her friends and family continuously encouraged her, but accepting the challenge was initially difficult. Like the struggles during her cancer days, instead of giving into insecurities, she took initiative and completely immersed herself into her work.

"我觉得很多人会因为不确定因素而害怕做某些事,我也是一样",她告诉我们。虽然她的家人以及朋友都一直在鼓励她,但是参加比赛这样的挑战对她来说仍然是巨大的。就像她在对抗癌症的那些日子里,她选择全身心的投入到工作当中而暂时忘掉癌症的痛苦,而不是每天担惊受怕。
Amazing training in Thailand在泰国训练的日子
One way she's done this is through her two weeks training in Thailand with some of the best UFC champions in the world. The traing camp named Phuket Top Team .The work was tiring and intense, but JayJay explained that this just energized her and made her determination to work harder more intense. Having met UFC champions like Cris Cyborg、Bethe Correia and taken other famous WBC champions' classes, training and living together,  JayJay was put up against incredibly talented athletes.为了备战12月份的比赛,JayJay特意去泰国一个叫Phuket Top Team的训练营接受为期两周的训练, 在那里她遇见了很多世界知名的职业UFC选手。训练虽然很艰苦,但是也正因这样,JayJay下定决心要努力训练,希望能够最大程度地提升自己。在训练营中,她也遇到了像Cris Cyborg、Bethe Correia这样的世界级UFC冠军,每天一起训练,打拳、踢沙袋等等,同其他优秀的选手一起,让JayJay 受益匪浅。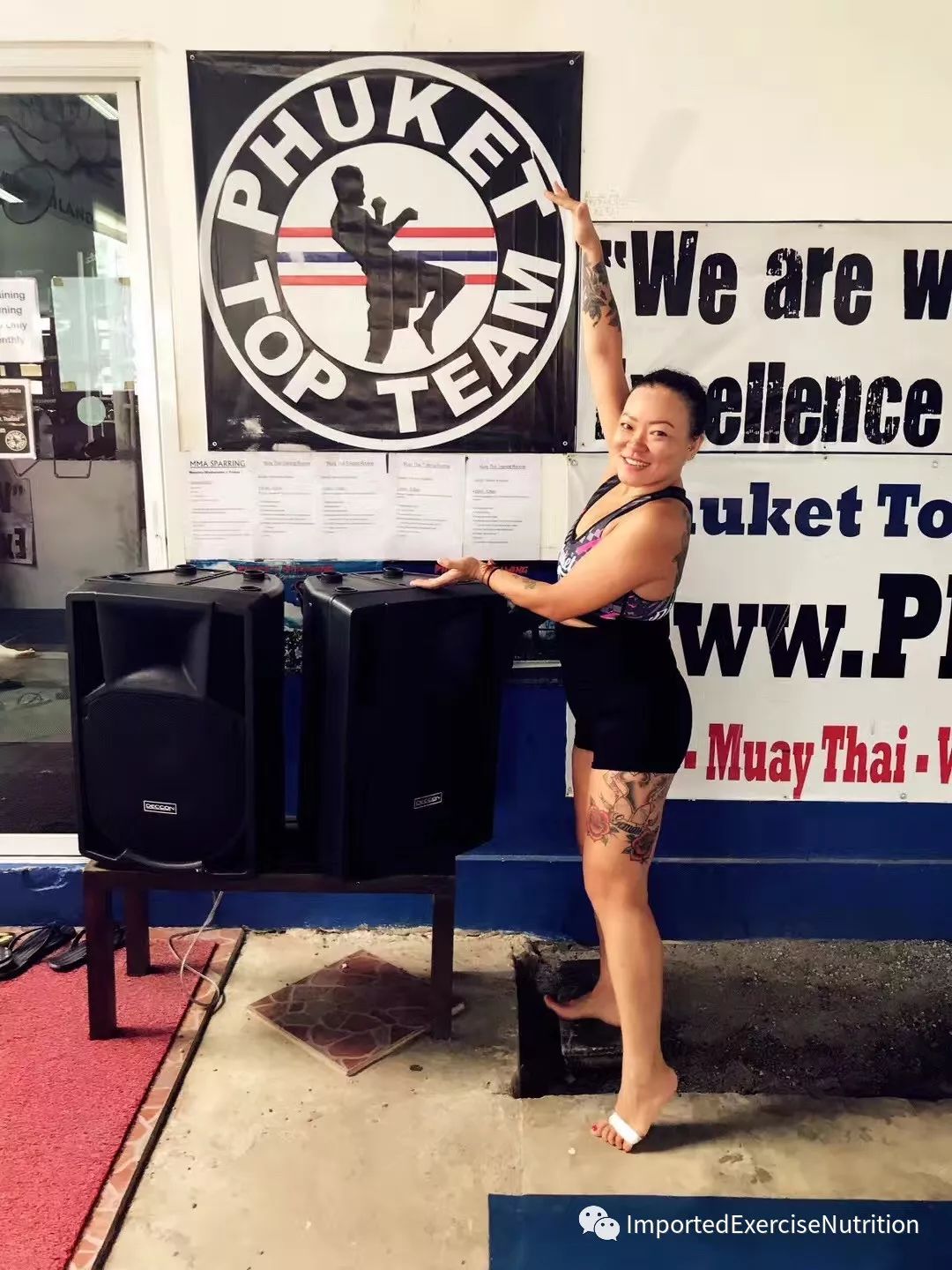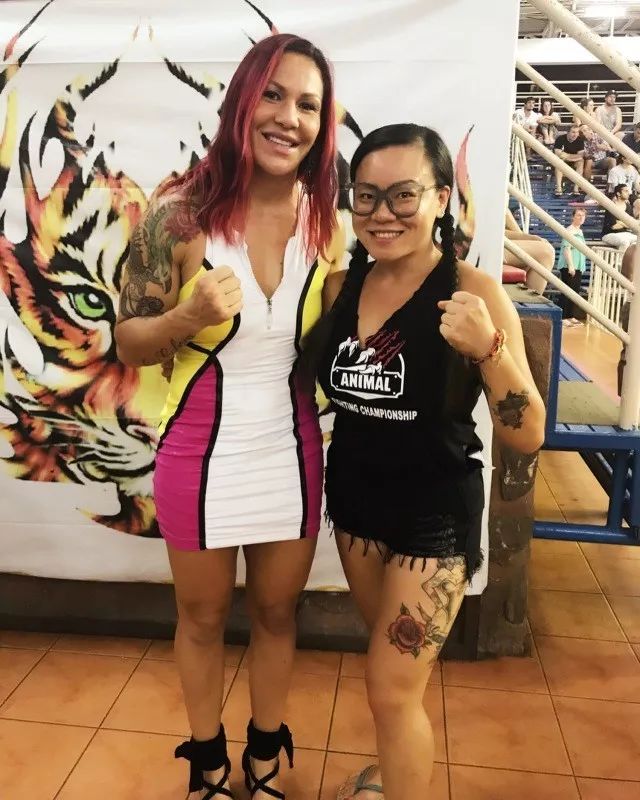 (JayJay with Cris Cyborg)
But it wasn't only about training and working out. What JayJay got the most out of her time in Thailand was long-lasting life lessons that she keeps with her to this day. Staying humble and keeping a good attitude was the number one thing. "Everyone was on the same level,"
但是她学到的东西不仅仅是训练,也有很多可以受用一生的宝贵财富。尽管他们都是世界著名运动员,但是人人都保持谦逊的态度,这种优秀的品质也不是所有人都具备的。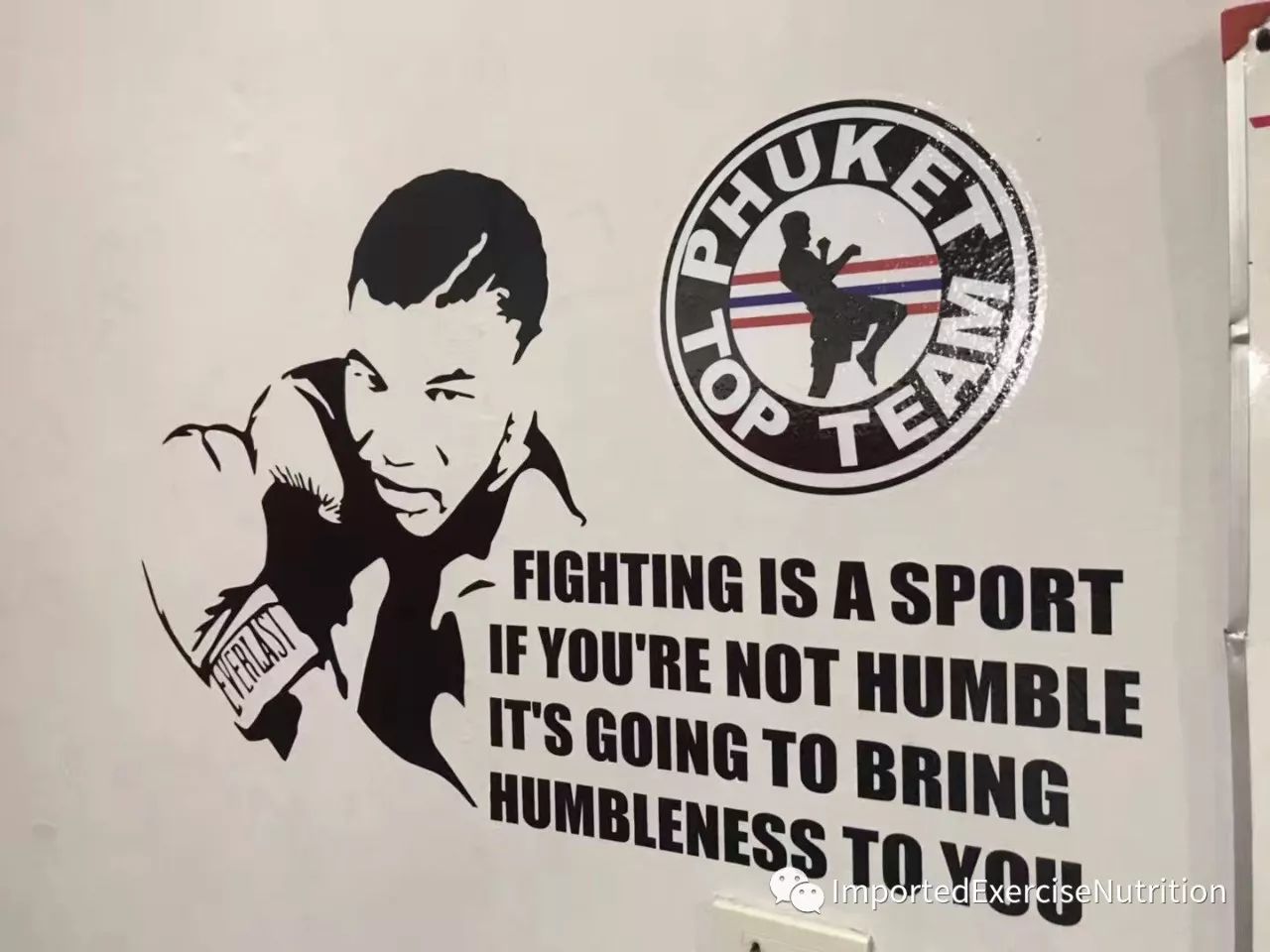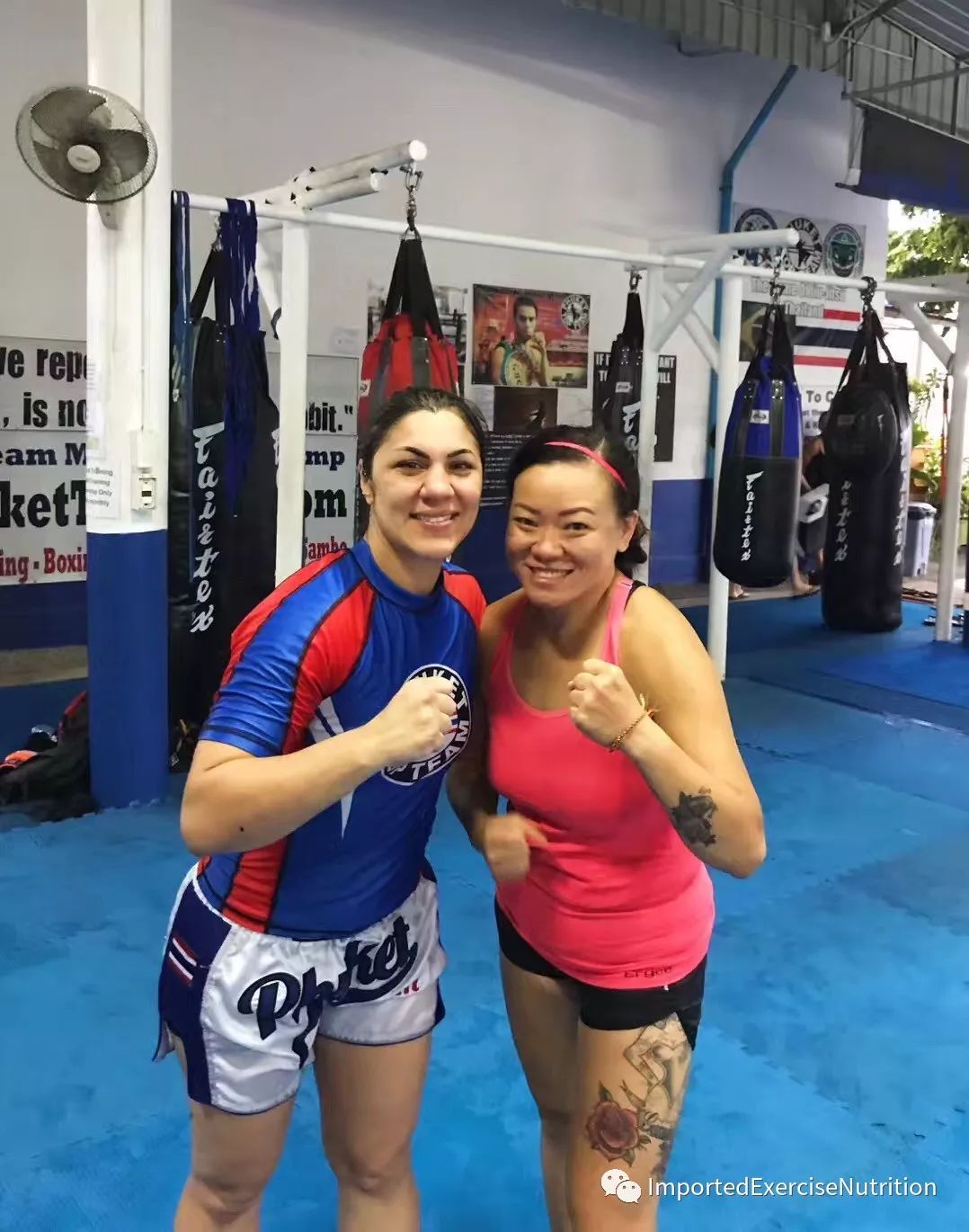 (JayJay with Bethe Correia)JayJay spoke to us about one particular story about a female Australian MMA fighter that she had gotten matched up to spar with. Like JayJay, she had children of her own and maintained a job outside of boxing. JayJay had told the Australian athlete about her struggles, and mentioned that she felt she was too old to continue her journey. The Australian athlete was, in fact, even older than JayJay and encouraged her to continue on with the fight and to never give up. Mentality is everything, and JayJay's determination definitely allows her to not be limited by her age. It was because of these once-in-a-lifetime interactions that JayJay became even more inspired, and now wishes to tell other what she had learned. "I plan to go back at least once a year," Jayjay told us.
JayJay还向我们分享了她的训练搭档的故事。对方是一个澳大利亚的MMA选手,和她一样有自己的孩子,工作之余还能保证拳击训练甚至参加比赛。令JayJay感到惊讶的是,对方的年龄比自己还要大,并且还鼓励她要一直将拳击坚持下去,不要因为自己年龄的增长就放弃。心态很重要,良好的心态能够让她超越年龄的限制。正是这些训练本身之外的交流和建议,JayJay受到了极大的鼓舞,在自己受益的同时,她也迫不及待地想分享给他人。"以后我打算至少每年去一次"。她说到。
(JayJay with her daughter)
What can we learn from JayJay ?JayJay启示录
JayJay reflected on her health journey compared to the mindset and lives of average aspiring fitness students. She wishes to change the closed-mindedness in the fitness community, and has given our readers tips on how to achieve the progress you want.整个采访下来我们能够感受到JayJay的谦逊品质和个人魅力。她不仅想使自己做到最好,同时还想与她人分享自己所学到的东西,她不想看到一个闭门造车的健身圈,经过这么长时间的训练和学习,她也有许多自己的独到见解。
1、Start doing more exercise based on your fitness goals, but most importantly, find exercises that make you excited.采用适合自己的训练计划,但最重要的是,要从事自己喜欢的训练项目,否则很难坚持下去。2、Eliminate bad foods from your diet.

避免垃圾食品

3、Make sure to get some rest: "When you train very hard, you need to have time to recover."

充分休息,尤其是当训练强度很大的时候,要给身体足够的时间恢复。

4、Motivation, motivation, motivation. Find what motivates you!

不断寻找前进的动力,勇往直前!
Even though the thought of starting a personal fitness revolution can be daunting, JayJay explained that "everyone started from the beginning", so do not be afraid of change and struggle.尽管从零开始健身很难,但是JayJay说到:"任何人都是从头开始,我也是一样",不要惧怕改变。Her ultimate tip?

她的终极建议?

"Be more active, and think big."

"设定远大目标,然后去努力实现"
Two weeks ago, JayJay has been announced as the official candidate of the "Brawl the Bund" fight night hosted by White Collar Boxing on 2nd December, with months of hard work and training, it's time for JayJay to get in the ring and enjoy the fight.2周前,JayJay正式被提名为"外滩争霸"的参赛选手,经过几个月的努力训练备战,12月2日,JayJay终于有机会上台一展身手,也让我们一起见证!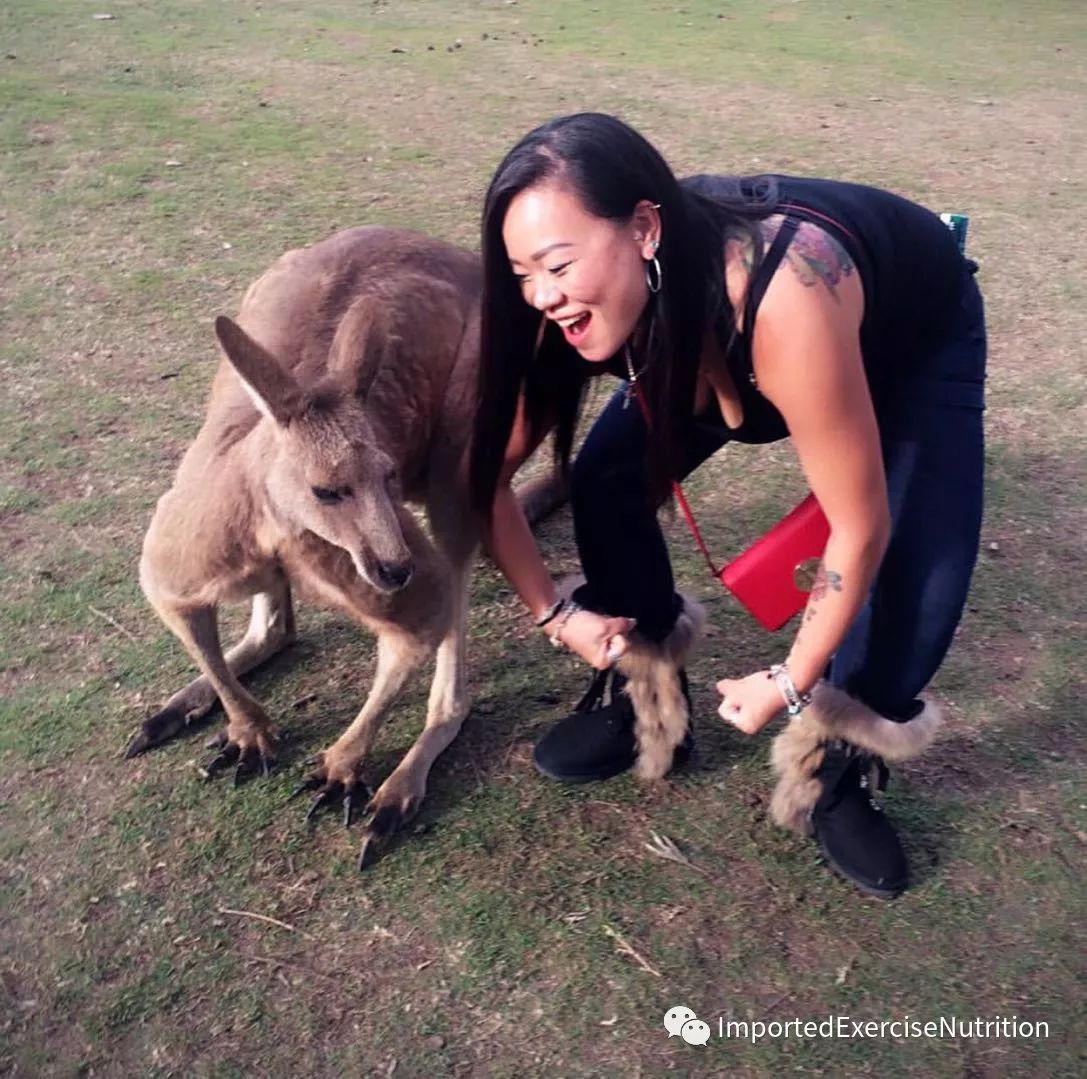 Good luck, JayJay!祝你好运,JayJay!
Scan the QR code and follow us!